My Type- Curly
My Issues, Dryness and Dry Scalp
The Beginning-
About two years ago I stopped using Shampoo. It all started when I saw the famous
WEN
commercial. After seeing Chaz Dean's hair, and the models before's and afters, it was hard to resist! I got my first bottles of
WEN
from
QVC
. It was one of those trios. After my first wash I instantly loved it. I noticed the difference in my hair right away. I wasn't as frizzy, and took very little work to tame my curly unruly hair!
Symptoms-
I did notice after a few day that there was a but of a transitional thing happening. I am not sure this happens to everyone, but it did to me. My scalp would get a little itchy only after a day and I noticed some build up. So my hair washing days increase temporarily.
Being a cosmetologist, I know have to allow your skin and scalp to balance itself out with it's natural secretions. Shampooing everyday would kill my hair, but using the cleansing conditioner almost everyday didn't cause any issues at all. It only improved more and more. Cleansing conditioner does not have the harsh hair stripping chemicals shampoos has. So it would seem that using harsh shampoos since I was born surely did a number on my scalp so I guess it was healing itself. My hair and scalp are healthier now and I wash it every 3-4 days. Remember I am not a doctor so always consult your doc especially if you are prone to allergic reactions.
Change in Routine-
Before cleansing conditioner my I would shampoo, repeat, condition. Then about every 2-4 shampoos I would have to wash my hair with
Head & Shoulders
dry scalp for flake prevention, and a in-shower 3 min deep condition. After my shower comes the ritual: leave in condition (yes more conditioner), detangle, slap on some hold (gel or mousse) Plus, every other week I would do a 30 min deep condition treatment or Hot Oil treatment. Now I cleanse with my cleansing conditioner, repeat and leave in for a few minutes while I scrub my bod, rinse. Put it a dab of cleansing conditioner, it serves as leave-in as well. A little hold (gel or mousse) thats it! I may treat myself to a 30 min deep condition or hot oil once a month. No more need for dry scalp treatment. I use less products, thus saving me time and money!
The Mistake-
I went back to shampoo recently just to see what happens, my hair was pissed! Went back to being dry, itchy, I had to give it extra moisture. Only lasted a couple of weeks. Done with poo!
WEN VS. Hair One-
I ordered WEN if I have extra cash because they do have a wide range of scents and levels of care. Hair one does not smell as nice as WEN, but for the price it's unbeatable. It's not that it smells bad, it smells earthy. Once it's rinsed, your hair smells very nice and clean! :) Hair One does not have a big variety but it does cover all hair types from fine to curly! I must warn you, Hair One sells out fast online and at the store! So when I buy I stock up! So glad they now have a liter. That is new...
**Which ever one you pick, please make sure you read the bottle and pick the one for your hair type!
Hair One by Fiske $1.59-$27.99
.60 smaple- 1 Liter
Oder at
Sally Beauty Online
or Avail in stores! (sign up for discounts at store)
If you can Afford it... 6oz- 1 gallon (no single samples)
Wen by Chaz Dean $18.00- $210 *Great Deals on
QVC
!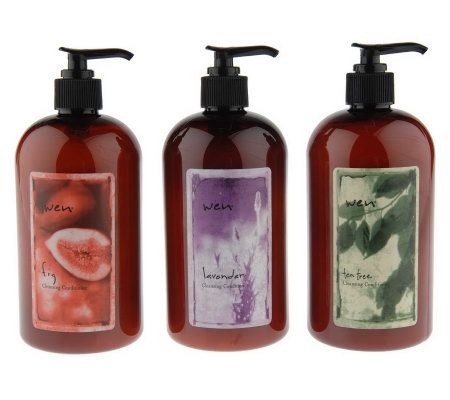 Hope this blog was enjoyable and helpful!
oXo, J
Sources:
Google Images
Sallybeauty.com
ChazDean.com
QVC.com