I just saw on E! (entertainment) some of the latest on "New Moon". I have to admit for a while I have been skeptical about "New Moon", since the first Twilight movie in my opinion wasn't all that. Yes, they now have a better director, but one has to think how are they going to make "New Moon", which happens to be the least favorite book to most fans, in to a a good movie. Of course I speak mostly for myself. Most of the twilight readers where extremely disappointed in the film. Those that loved the movie most likely did not read the book.

Few things that got me excited after watching these videos; Judging by the small clips I can see the director really captured the dramatics and emotions of "New Moon". I was shocked to find out that Dakota Fanning will be playing Jane. I pictured Dakota playing a different character in one of the other books, out of respect for those that have not read the books, I will not mention to whom I am referring to. Hopefully my commenters will try not to spoil it either ;O)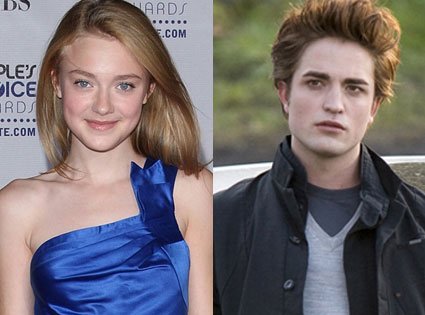 For a while I have been very curious as to who would play this sinister little character (Jane). I guess they made a great choice Dakota is an amazing young actress. Another shocker that I heard in one of the Videos, is that others were lined up for Jacob Black. Therefore Taylor Luatner seriously worked hard to beef up, and if you thought he was a piece if eye candy in the first movie? Wait till you see how he looks now, and let me not get started on the wolf boys. I just say that this group of guys they conjured up specifically to make the perfect formula to give those raging hormonal Teens a good rush! When I saw that Picture it got my Twenty (cough) something self just a little too warm. Well I won't keep you anymore go and explore the
Entertainment link
which is loaded with pictures, vids, and news about the movie! Have fun Twilighters!
Xoxo,
J